Dyno Mod
Audio Effect VST and AU Plugin for the Electric Pianos
The Dyno Mod was a famous hardware add-on for the Electric Pianos in the early '70s. We recreated the FX to be used for free on any Electric Piano VST/AU instrument, though it's specially designed for Sampleson's EPs.
Dyno Mod in action
The effect was developed to enhance high and low harmonics and to give a wider feel to Sampleson's Electric Pianos.
Despite this, the module can be used over any Electric Piano VST. As it's designed to act over high harmonic spectrum, you'll notice a blowing sound (produced by recorded samples) if it's used over a sample-based Electric Piano.
CUSTOM MADE FOR SAMPLESON ELECTRIC PIANOS
Modeled Electric Pianos can reproduce a wide range of high harmonics without any noise. You can increase high frequencies to the infinite, and you won't hear any blowing or mic noise because there are no samples or recordings involved.
This gives a huge amount of possibilities and tweaking options that a sampled instrument won't be able to give you.
Browse Our Electric Pianos >>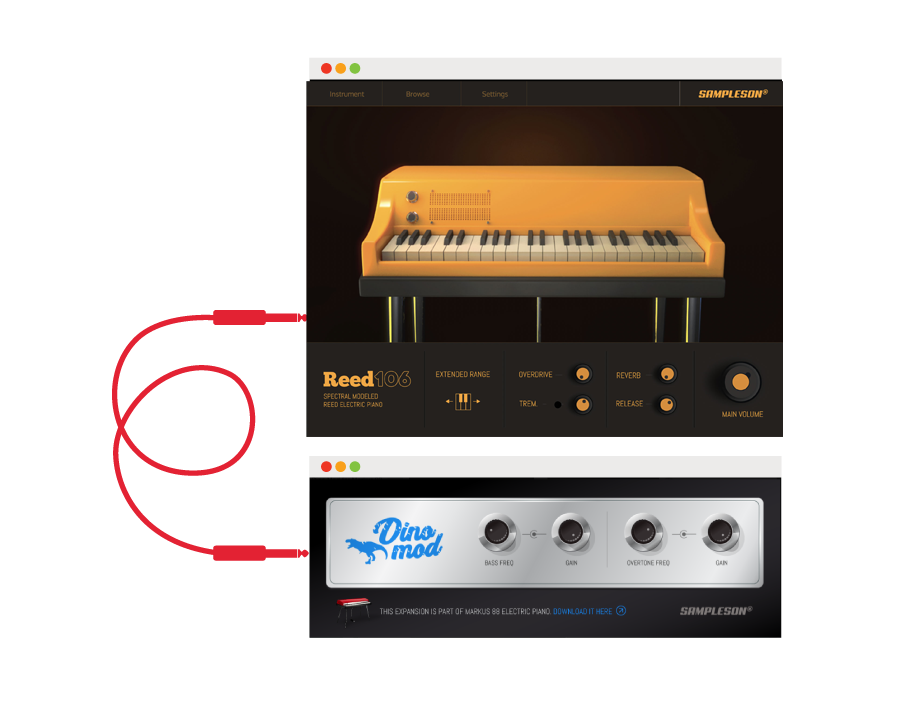 Product details
- VST/AU Stereo Effect Plugin.
- Frequency and gain control for low and high harmonics.
- Stereo spread incorporated.

---
- Win 64 bits and Mac VST/AU versions included.
- Lifetime Free.
- No online activation required.
- No 3rd party software/player needed.
- Compatible with major DAWs.