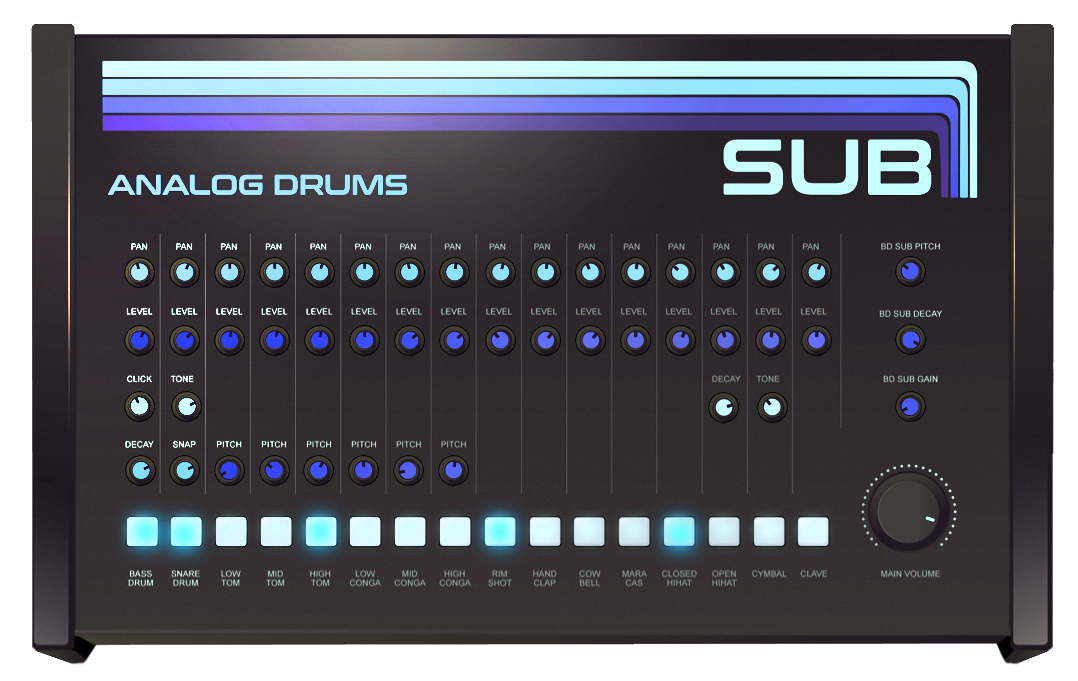 Raw Analog drums + SUB bass OSC
SUB is a vintage analog drums module recreating many classic drum sounds and a Sub-frequency oscillator for extra fun!
*We'll send you a download link to this email.
SUB demos
Demos were recorded on GarageBand and post-processed with a compressor. No other FXs were used
No Samples. Just Good old synthesis.
The magic of using synthesis (instead of sampling vintage hardware) is that sounds can be tweaked in a way sampled-based vst drum machines won't let you. Also it's just 35MB (sampling all of the variations you have on SUB will require 4GB of samples)
Product details
-Analog Drums module
-18 Analog drum sounds
-Mixer with Pan and Vol
-HD Scalable interface.
-NO Sequencer included.
-No extra purchases needed (like Kontakt, UVI, etc) or any other 3rd. party player.
-Ready to be loaded into major DAWs (Cubase, Logic Pro, GarageBand, Cakewalk, Reaper, BitWig, Nuendo, FLstudio, etc)
-MacOS Catalina / Big Sur / Monterey Ready.
-Win 64 bits and Mac VST/AU/Standalone versions included
-About ~35MB installed.
-No library installation required.