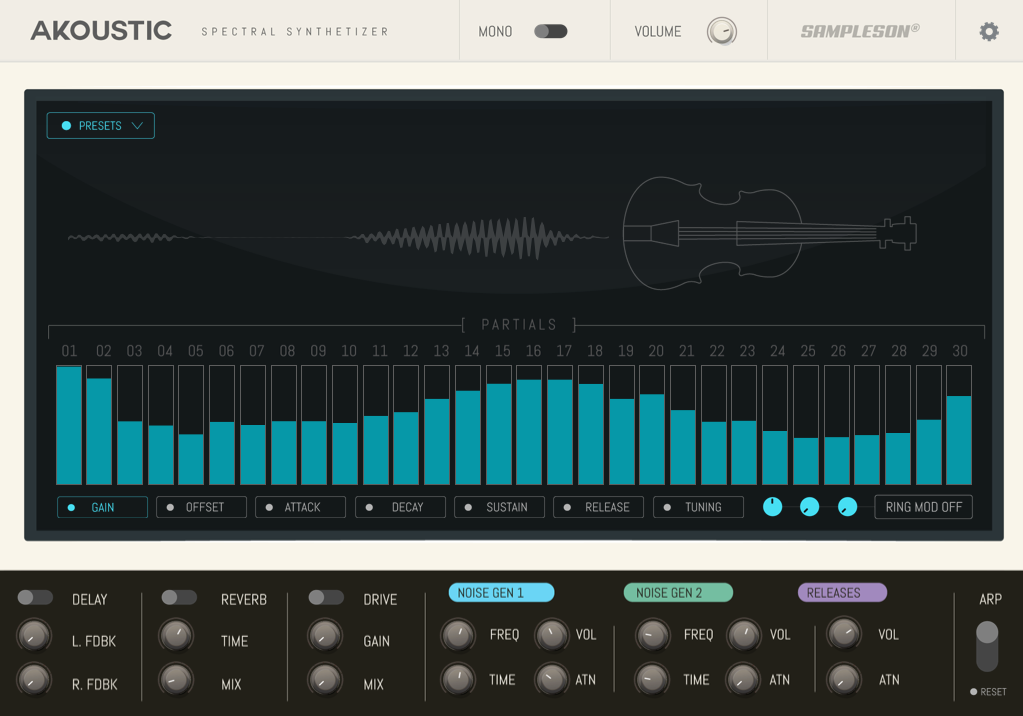 Acoustic models. Organic results.
A new approach to sound design. We created spectrums for acoustic instruments to be accessed via additive synthesis.
Akoustic gives you a very precise and obsessive way to create new sounds, allowing you to tweak every partial in a detailed way. Envelope, tuning, offset or gain for any partial are accessible individually. This gives you an unmatched detailed editing power.
Download Now ($69)


Akoustic sound demos
All of the sounds were generated by Akoustic (excluding drums on "Cellos").
Akoustic is fully built upon organic spectrums (Electric Pianos, Violas, Woodwinds, Basses, etc)
This is not a normal approach. If you are looking for resonance knobs, cut-off filters and regular subtractive synth stuff, Akoustic is not for you. Akoustic will allow you to touch every single detail of a sound. From partials envelope, tuning and gain, to offsets and micro tuning things to create unique and organic-like sounds.
EVERY SOUND CREATED WITH AKOUSTIC, IS.... ACOUSTIC :)
DNA for acoustic instruments will remain recognizable on any weird editing made with Akoustic. This is what we love about Akoustic. All the patches have an organic, wood-like sounding and analog feel.
Create amazing organic sounds
Akoustic is fully based on spectral modeling. It recreates organic sounds by additive and spectral synthesis. This is why it's so lightweight, we don't need to include huge sampling audios, we just included its DNA. Creating organic sounds is now in your hands.
Product details
- Additive synthesizer based on spectral models.
- Drive, delay and Reverb FXs.
- Basic arpeggiator included.
- HD Scalable interface.
- Releases, mechanical noises knob.
- No extra purchases needed (like Kontakt, UVI, etc) or any other 3rd party player.
- Ready to be loaded into major DAWs (Cubase, Logic Pro, GarageBand, Cakewalk, Reaper, BitWig, Nuendo, FLstudio, etc).
- Win 64 bits and Mac VST/AU/Standalone versions included.
- MacOS Catalina / Big Sur / Monterey Ready.
- About ~35MB installed.
- No library installation required.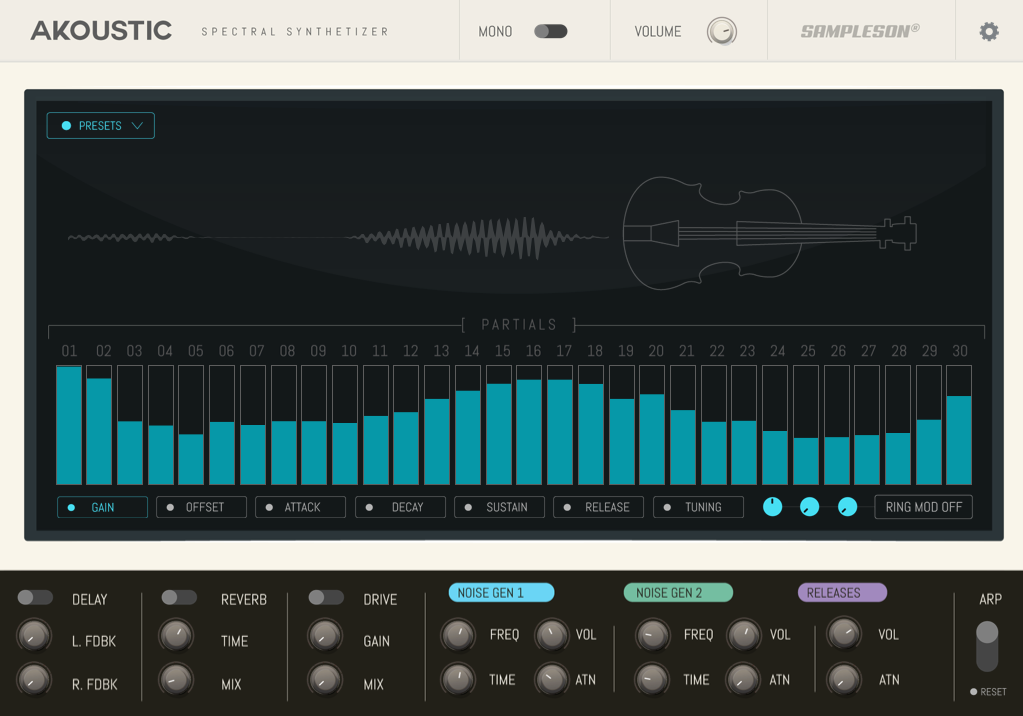 Download Now ($69)